Managing and fulfilling your design duties and responsibilities
Regarding Permanent Works Design LMH shall
Identify any hazards that their design may present during construction and subsequent maintenance.
Where possible, eliminate the hazards or reduce the risk.
Communicate necessary control measures, design assumptions or remaining risks to the PSDP so they can be dealt with in the safety and health plan.
Co-operate with other designers, PSDP and PSCS.
Take account of any existing safety and health plan or safety file.
Comply with directions issued by the PSDP or PSCS.
Detail and submit all required documentation / certificates for permanent works design elements.
Pre-Design of Temporary Works Within the Project
The PSCS / main contractor and specialist contractor identify Temporary works design items and where these occur in the program.
The PSCS, main contractor advise the PSDP and the Permanent Works Designer.
Design of Temporary Works within the Project
LMH Temporary Works Design Engineer develops temporary works design and Design Risk Assessments.
The temporary works design engineer Issues a Temporary Works Design Certificate (TWDC) and associated documentation to PSDP and Permanent Works Engineer.
The Permanent Works Engineer ensures temporary works design is not in conflict with permanent work design and is to appropriate standards.
The Permanent Works Engineer signs off the TWDC when satisfied.
The PSDP signs off on the TWDC when the process is in place.
The TWDC is retained by the PSCS.
Site/Field Quality Control
LMH Engineering Ltd. handles all aspects of site install with BIM field to review all the latest drawings for the installation procedure and to receive live data and latest drawings from the in house design team. BIM is also used to document mock ups and bench marks for client review, and to handle and identify snags that may occur and be raised and actioned on site to ensure our clients receive a product that LMH Engineering Ltd. is proud to hand over.
The BIM Software is used on site by personnel who use iPads to log information, which allows LMH Engineering Ltd. to monitor progress on site. See sample below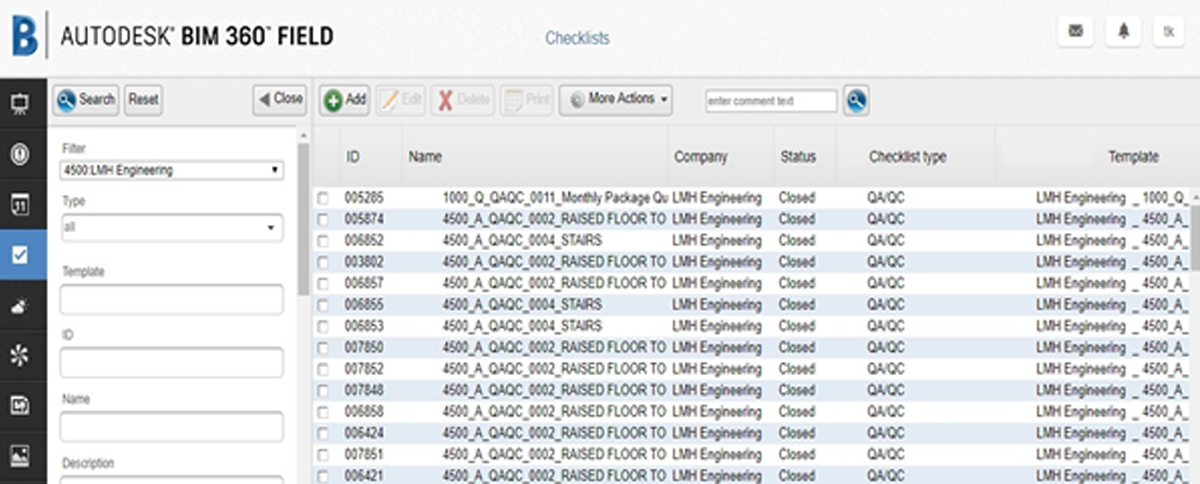 Items covered include
BIM Glue,
Structural Steel Suite,
IDEA Static Connection Design,
Revit,
Navis,
Advanced Steel,
BIM Collaborate,
BIM Compliant, BIM 360,BIM Field (IPAD based) complete with all necessary checklists – project specific,
CAD Vehicle Tracking
CAD Rendering